Stop Motion Animation Brighton
Stop Motion Animation Brighton 1:1 classes.
"We have watched the animation multiple times already today! M. is so proud of himself! I think we might need to book another one soon. He's already planning the next one!"
Apologies but I no longer offer stop motion animation due to space restrictions. I am keeping this page up in case others want ideas.
This medium can be for children who want to have fun bringing stories to life.
Sessions are also suitable for children who are in some way blocked creatively. They may feel insecure in the classroom because they can't write enough, have difficulty spelling, can't get their ideas down on paper or even, dare I say it, hate school!
This is a really fun way of exploring story ideas, getting children to read and write for a purpose, and giving them time to express themselves. School is often so prescribed - this type of project can go wherever the child wants to go! There are no limits except their own imagination.
Weekly classes or one-off
The classes can be on-going (ie. weekly) thus allowing time for the student to think of ideas and build up slowly, thinking of characters, writing a storyboard, making a backdrop for a set, making a soundtrack, doing the filming itself, and editing if necessary. This is a very creative set of lessons and would be ideal for the summer holidays when there is more time and less pressure from school. See below for the process involved.
Alternatively it could be a dedicated holiday experience; for these sessions, 3 hours is ideal spread over 3 consecutive days if possible so the set can remain up. 
The film below was made by 9 year old Jacob in a 3 hour session - we planned the story and made the models and backdrop in the first hour and then did the filming in the following 2 hours.
The educational process of stop motion animation
Stop Motion Animation Step One - Mind mapping
We discuss various ideas for animation as well as for the story itself. Decisions can be made as to whether clay will be used or the children's own toys (eg. Lego or Sylvanian characters for example). We will record ideas on paper probably using mind mapping techniques allowing ideas to flow and see what comes out of the process.
Step Two - Storyboarding
This is where we create a storyboard that reflects the action we want to see. We will also identify the characters and decide on any props that are needed. Basic sketches can be used as well as written techniques to record the story. Any narrative will need to be written and ideas for music can be noted. I have access to lots of musical styles which can be added to the film.
Step Three - Set Building

If required, sets will be created reflecting the action in the movie. I will black out the office and make sure the lighting is as constant as possible. We will do this together and it is all part of the animation fun!
Characters will be made out of clay at this point or Lego/Sylvanian sets built. It may be that sets are left in the office rather than taken home. That will be discussed at that stage in the process.
Step Four - Animation

We will use my laptop, software, lights and camera and the set we have built. Characters will follow the story that has been decided upon. The child will learn patience as tiny movements are made with the characters, filmed as single frames, and then run together to make a moving piece.
This whole process is great for confidence, filling children with enthusiasm and energy for the creations they are working with. Learning becomes great fun!
Step Five - Export
The movie will be uploaded to Youtube and will be viewable by family and friends. This completes the process allowing the student to reflect on the work they have done and the steps taken. This is an immensely satisfying and quite addictive creative form and could unleash a hidden talent and years of creative fun! You never know - a new Nick Park (Wallace and Gromit) could be in the making!
About Me
I have been teaching primary aged children since 1986: for ten years I was a full-time primary school teacher; then I worked as a freelance piano, flute, English and Maths tutor; since 2005 I have been a qualified dyslexia tutor. I teach from my office in Brighton, a minute's walk from Brighton Station.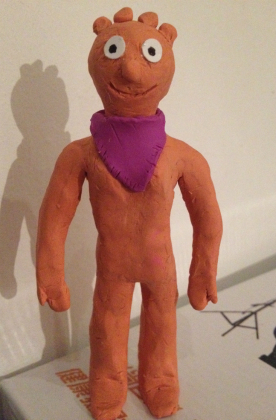 Copyright©2021 spotty-dog-tutoring.co.uk
Created and written by Hilary Burt.
All rights reserved. No reproduction without permission.