Stop Motion Animation -
bringing stories alive
Stop Motion Animation is brilliant for all children
. 
"M. is so pleased with himself and full of confidence. He had so much fun and definitely wants to make more!"
APOLOGIES but I no longer offer stop motion animation due to space restrictions. I have kept this page up in case anyone else wants to organise it and is looking for ideas!!
I tend to offer stop motion animation classes in the holidays although preparation for a film can occur in term-time as well. Term-time sessions are ideal for children who may be feeling switched off to school work. They provide a real reason to learn to read and write and we can build up to a film session over 4 to 6 weeks. There is a real sense of achievement when the film is finished and people are watching it on Youtube!

I ask the children to create a film ID so they are not using their real name even if it's something like 'Ben25'. The films are then put up on my You Tube channel where comments and user ratings are disabled so we are not left to the mercy of the Youtube audience.
---
Here is a short animation I made introducing the idea of Stop Motion Animation. The stars of the show are Ziggy, Pip and my plasticine helper, Polo.
What is Stop Motion Animation?
In its simplest form we:

Set up a scene with a character 
Take a picture
Change it 
Shoot it again 
Change it
Shoot it again
and so on!
---
Below: setting up the scene for one of the films.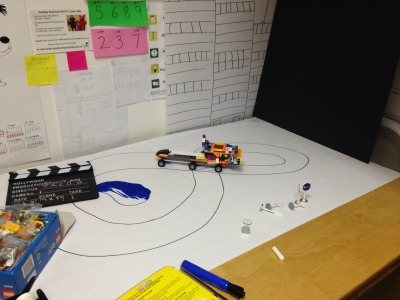 Sessions running over 6 weeks are absolutely ideal if your child 
is a creative type who has a great imagination

loves writing stories and making up characters

is a reluctant reader - they will be reading the stories they are making up and maybe creating a voice over

is a reluctant writer - they will be writing a short screenplay which will then be animated
---
Children are free to bring in little characters or lego sets. We make up a quick story and plan out what will happen. The film usually ends up at around the one minute mark and I work at 12 frames per second. So that's about 720 frames altogether which means it is not a quick process!
The children will take the photos using my camera and software, and then we can add sound, titles and credits. 
When the film is finished I shall export it and there will be a little movie on my Youtube channel to show family and friends.
---
Bringing stories to life may seem like magic - and indeed it feels amazing to watch back as your inanimate characters move and take on a life of their own.
This is a lovely way of combining stories and computer software. We decide on the story, set the stage, place the characters in position, make sure the lighting's right, focus the camera - and off we go!
Claymation and stopmotion teach patience, attention to detail, photography and communication skills. Creating a film from a lot of hard work is extremely rewarding for children.
Here's one of the films made by an 8 year old girl in the 2015 Easter holiday. To see other stop motion animation films made in the Spotty Dog studio visit this page on the site.

Stop motion animation can be used to engage a child who has switched off and is not keen to write or is finding it difficult to get ideas down on paper. This medium can really be an exciting way to express creativity. 

"I just wanted to say that W. [age 10] comes out of your lessons buzzing! He is generally a very level person, so it is great to see him chatty and excited about something! He was telling the cashier all about his lessons and film in Sainsbury's yesterday!"

Copyright©2021 spotty-dog-tutoring.co.uk
Created and written by Hilary Burt.
All rights reserved. No reproduction without permission.